---
ANNO LUCIS
---
"Bro. John J. Bond, in his Handy Book of Rules and Tables, to our mind gives a clue to this difference, which we never remember seeing noted elsewhere, as applicable to the subject. 'The birth of our Lord took place in the 28th year of the reign of Augustus; and Dionysius, by reckoning from 727 A.U.C., the year in which the Emperor took the name of Augustus, made the 28th year fall to 754 A.U.C., four years short of the date observed by the early Christians, who reckoning their years of the Emperor from the date of the battle of Actium (723 A.U.C.). to commemorate which the era of the Roman Emperors was founded, made the 28th year of Augustus fall to 750 A.U.C. for the birth of our Lord, or "Anno Christi.'"
---
Kenning's Masonic Cyclopedia and Handbook of Masonic Archaeology, History and Biography. A.F.A. Woodford, ed. George Kenning, London: 1878. [p. 650].

The Masonic calendar traditionally dated from 4004 BCE; the creation of the universe, Anno Mundi, as computed by Archbishop James Ussher in 1650-54 and inserted by Bishop William Lloyd of Winchester as a marginal note in the Great (1701) Edition of the English Bible, where it remained without explanation until 1900 when Cambridge University Press removed it from further editions.

By the mid eighteenth century, masonic usage had shifted to the year of light, Anno Lucis, which dates from 4000 BCE. There is no masonic significance to either date, other than a desire by early masonic writers to create as ancient a lineage for Freemasonry as their imaginations would allow. By using the 4000 date, they could claim that their usage predated Ussher's promotion of the theory that Jesus had been born four years earlier than claimed by Dionysius Exiguus, the sixth century inventor of the BC-AD time system.

James Ussher (1581-1656), an Irish theologian and scholar, at one time had possibly the largest collection of books in Western Europe. A tireless collector, he eventually donated the collection to Trinity College, Dublin, which his uncle Henry Ussher (c.1550-1631) helped found. During his lifetime he was widely known as a defender of learning, of the value of books secular and sacred, and a proponent of maintaining an independent identity for Irish Protestant faith. He was appointed Archbishop of Armagh in 1625.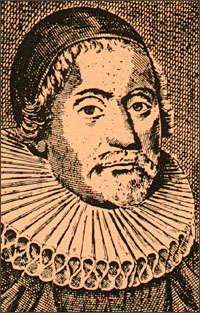 What he is best remembered for is his chronology of creation. Using the Book of Genesis, and other histories, he determined that the universe was created in the year 4004 BCE, on October 23rd, beginning at sunset of the 22nd. Starting in 1701, this chronology was inserted in the margins of many editions of the King James Authorized Version of the Bible. Dr. John Lightfoot later refined the computation to 9:00 a.m