---
most excellent master
CHAPTER VIII
the masonic manual
robert macoy
---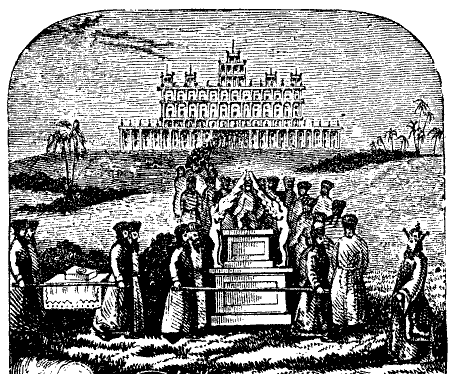 NONE but the meritorious and praiseworthy, none but those who, through diligence and industry, have progressed far towards perfection; none but those who have been seated in the ORIENTAL CHAIR, by the unanimous suffrages of their brethren, can be admitted to this degree of Masonry.
In its original establishment, when the temple of Jerusalem was finished, and the fraternity celebrated the capstone with great joy, it is demonstrable that none but those who had proved themselves to be complete masters of their profession, were admitted to this honor; and, indeed, the duties incumbent on every Mason, who is accepted and acknowledged as a Most Excellent Master, are such as render it indispensable that he should have a perfect knowledge of all the preceding degrees.
The following passage of Scripture is read at opening, accompanied by solemn ceremonies: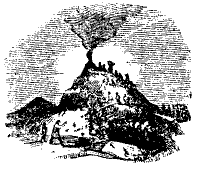 The earth is the LORD'S, and the fullness thereof; the world, and they that dwell therein. For he hath founded it upon the seas, and established it upon the floods. Who shall ascend into the hill of the LORD? or who shall stand in his holy place? He that hath clean hands and a pure heart; who hath not lifted up his soul unto vanity, nor sworn deceitfully. He shall receive the blessing from the LORD, and righteousness from the GOD of his salvation. This is the generation of them that seek him, that seek thy face, O Jacob. Selah. Lift up your heads, O ye gates; and be ye lift up, ye everlasting doors; and the King of Glory shall come in. Who is this King of Glory?
The LORD strong and mighty, the LORD mighty in battle. Lift up your heads, O ye gates; even lift them up ye everlasting doors; and the King of Glory shall come in. Who is this King of Glory? The LORD of Hosts, he is the King of Glory. Selah. - PSALM xxiv.
* * * * * * * *
The following Psalm is read during the ceremony of receiving a candidate: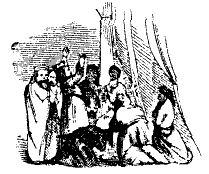 I was glad when they said unto me, Let us go into the house of the Lord. - Our feet shall stand within thy gates, O Jerusalem. Jerusalem is builded as a city that is compact together: Whither the thibes go up, the tribes of the Lord, unto the testimony of Israel, to give thanks unto the name of the Lord. For there are set thrones of judgment, the thrones of the house of David. Pray for the peace of Jerusalem: they shall prosper that love thee. Peace be within thy walls, and prosperity within thy palaces. For my brethren and companions' sakes, I will now say, Peace be within thee. Because of the house of the LORD our GOD I will seek thy good " - Ps. cxxii.


* * * * * * * *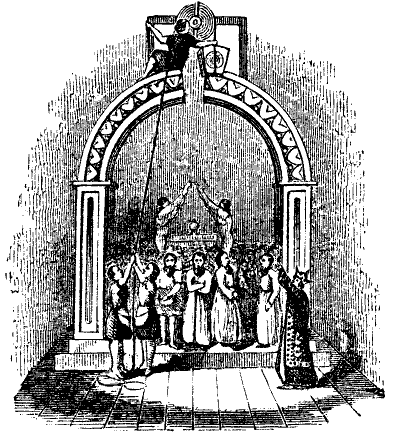 ALL hail to the morning
That bids us rejoice;
The temple's completed,
Exalt high each voice.
The capstone is finish'd,
Our labor is o'er;
The sound of the gavel
Shall hail us no more
To the Power Almighty, who ever has guided
The tribes of old Israel, exalting their fame.
To Him, who hath govern'd our hearts undivided,
Let's send forth our voices to praise his great name.
Companions, assemble
On this joyful day;
(The occasion is glorious,)
The keystone to lay;
Fulfill'd is the promise,
By the ANCIENT OF DAYS,
To bring forth the capstone
With shouting and praise.
* * * * * * * *
There is no more occasion for level or plumb-line,
For trowel or gavel, for compass or square;
Our works are completed, the ARK safely seated,
And we shall be greeted as workmen most rare.
* * * * * * * *
Now those that are worthy,
Our toils who have shar'd,
And prov'd themselves faithful,
Shall meet their reward.
Their virtue and knowledge,
Industry and skill,
Have our approbation,
Have gained our good-will.
We accept and receive them, Most Excellent Masters
Invested with honors, and power to preside;
Among worthy craftsmen, wherever assembled,
The knowledge of Masons to spread far and wide.
ALMIGHTY JEHOVAH!
Descend now and fill
This lodge with thy glory,
Our hearts with good will' Preside at our meetings,
Assist us to find
True pleasure in teaching
Good will to mankind.
Thy wisdom inspired the great institution,
Thy strength shall support it till nature expire;
And when the creation shall fall into ruin,
Its beauty shall rise through the midst of the fire.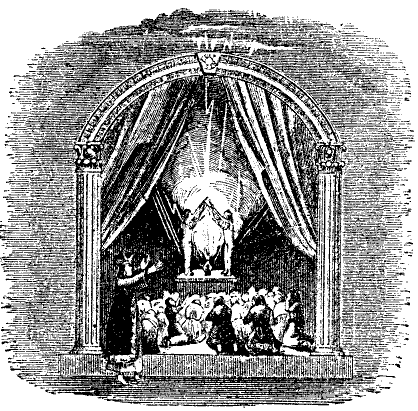 The following passages of scripture are also introduced.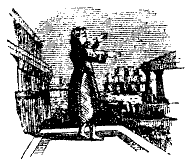 Then said Solomon, The LORD hath said that he would dwell in the thick darkness. But I have built an house of habitation for thee, and a place for thy dwelling forever. And the king turned his face, and blessed the whole congregation of Israel: (and all the congregation of Israel stood:) And he said. Blessed be the LORD GOD of Israel, who hath with his hands fulfilled that which he spake with his mouth to my father David, saying, Since the day that I brought forth my people out of the land of Egypt, I chose no city among all the tribes of Israel to build an house in, that my name might be there; neither chose I any man to be a ruler over my people Israel; but I have chosen Jerusalem, that my name might be there; and have chosen David to be over my people Israel. Now, it was in the heart of David, my father, to build an house for the name of the LORD GOD of Israel. But the LORD said to David, my father, Forasmuch as it was in thine heart to build an house for my name, thou didst well in that it was in thine heart: notwithstanding, thou shalt not build the house; but thy son, which shall come forth out of thy loins, he shall build the house for my name. The LORD, therefore, hath performed his word that he hath spoken; for I am
risen up in the room of David, my father, and am set on the throne of Israel, as the Lord promised, and have built the house for the name of the LORD GOD of Israel; and in it have I put the ark, wherein is the covenant of the LORD, that he made with the children of Israel.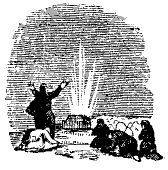 And he stood before the altar of the LORD, in the presence of all the congregation of Israel, and spread forth his hands: for Solomon had made a brazen scaffold of five cubits long, and five cubits broad, and three cubits high, and had set it in the midst of the court; and upon it he stood, and kneeled down upon his knees, before all the congregation of Israel, and spread forth his hands toward heaven, and said,
"O LORD GOD of Israel, there is no GOD like thee in heaven nor in the earth; which keepest covenant, and shewest mercy unto thy servants that walk before thee with all their hearts; thou which hast kept with thy servant David my father, that which thou hast promised him; and spakest with thy mouth, and hast fulfilled it with thine hand, as it is this day. Now, therefore, O LORD GOD of Isael, keep with thy servant David my father, that which thou hast promised him, saying, There shall not fail thee a man in my sight to sit upon the throne of Israel; yet so that thy children take heed to their way to walk in my law, as thou hast walked before me. Now, then, O LORD GOD of Israel, let thy word be verified, which thou hast spoken unto thy servant David. But will GOD in very deed dwell with men on the earth? Behold, heaven and the heaven of heavens cannot contain thee; how much less this house which I have built! Have respect, therefore, to the prayer of thy servant, and to his supplication, O LORD my GOD, to hearken unto the cry and the prayer which thy servant prayeth before thee: that thine eyes may be open upon this house day and night, upon the place whereof thou hast said that thou wouldst put thy name there; to hearken unto the prayer which thy servant prayeth toward this place. Hearken, therefore, unto the supplications of thy servant, and of thy people Israel, which they shall make toward this place; hear thou from thy dwelling place, even from heaven; and, when thou hearest, forgive.
Now, my GOD, let, I beseech thee, let thine eyes be open; and let thine ears be attent unto the prayer that is made in this place. Now therefore arise, O LORD GOD, into thy resting-place, thou and the ark of thy strength: let thy priests, O LORD GOD, be clothed with salvation, and let thy saints rejoice in goodness. O LORD GOD, turn no away the face of thine anointed: remember the mercies of David, thy servant. - II CHRON vi
Now when Solomon had made an end of praying the fire came down from heaven, and consumet the burnt-offering and the sacrifices; and the glory of the LORD filled the house. And the priests could not enter into the house of the LORD, because the glory of the LORD had filled the LORD'S house. And when all the children of Israel saw how the fire came down, and the glory of the LORD upon the house, they bowed themselves with their faces to the ground upon the pavement, and worshipped, and praised the LORD, saying, FOR HE IS GOOD; FOR HIS MERCY ENDURETH FOREVER. - II CHRON.
BROTHER: - Your admittance to this degree of Masonry, is a proof of the good opinion the brethren of this lodge entertain of your masonic abilities. Let this consideration induce you to be careful of forfeiting, by misconduct and inattention to our rules, that esteem which has raised you to the rank you now possess.
It is one of your great duties, as a Most Excellent Master, to dispense light and truth to the uninformed Mason; and I need not remind you of the impossibility of complying with this obligation without possessing an accurate acquaintance with the lectures of each degree.
If you are not already completely conversant in all the degrees heretofore conferred on you, remember, that an indulgence, prompted by a belief that you will apply yourself with double diligence to make yourself so, has induced the brethren to accept you. Let it, therefore, be your unremitting study to acquire such a degree of knowledge and information, as shall enable you to discharge, with propriety, the various duties incumbent on you, and to preserve, unsullied, the title now conferred upor you of a Most Excellent Master.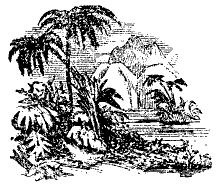 The LORD is my shepherd; I shall not want. He maketh me to lie down in green pastures; he leadeth me beside the still waters. - He restoreth my soul; he leadeth me in the paths of righteousness for his name's sake. Yea, though I walk through the valley of the shadow of death, I will fear no evil: for thou art with me; thy rod and thy staff they comfort me. Thou preparest a table before me, in he presence of mine enemies; thou anointest my ead with oil; my cup runneth over. Surely goodness and mercy shall follow me all the days of my life; and I will dwell in the house of the LORD forever. - PSALM xxiii.
THIS structure, for beauty, magnificence and expense, exceeded any building which was ever erected. It was built of large stones of white marble, curiously hewn, and so artfully joined together, that they appeared like one entire stone. Its inner walls, beams, posts, doors, floors and ceilings, were made of cedar and olive wood, and planks of fir, which were entirely covered with plates of gold, with various beautiful engravings, and adorned with precious jewels of many colors. The nails which fastened those plates were also of gold, with heads of curious workmanship. The roof was of olive wood, covered with gold, and when the sun shone thereon, the reflection from it was of such a refulgent splendor that it dazzled the eyes of all who beheld it. The court in which the temple stood, and the courts without, were adorned on all sides with stately buildings and cloisters; and the gates entering therein, were exquisitely beautiful and eleganit. The vessels consecrated to the perpetual use of the temple, were suited to the magnificene of the edifice in which they were deposited and used.
Josephus-states, that there were one hundred and forty thousand of those vessels, which were made of gold, and one million three hundred and forty thousand of silver; ten thousand vestments for the priests, made of silk, with purple girdles: and two millions of purple vestments for the singers. There were also two hundred thousand trumpets, and forty thousand other musical instruments, made use of in the temple, and in worshipping GOD.
According to the most accurate computation of the number of talents of gold, silver and bhrass laid out upon the temple, the sum amounts to six thousand nine hundred and four millions, eight hundred and twventy-two thousand and five hundred pounds sterling; and the jewels are reckoned to exceed this sum. The gold vessels are estimated at five hundred and forty-five millions, two hundred and ninety-six thousand, two hundred and three pounds and four shillings sterling; and the silver ones at four hundred and thirty-nine millions, three hundred and forty-four thousand pounds sterling; amounting in all, to nine hundred and eighty-four millions, six hundred and thirty thousand, two hundred and thirty pounds, four shillings. In addition to this, there were expenses for workmen, and for materials brought from Mount Libanus and the quarries of Zeredatha. There were ten thousand men per month in Lebanon, employed in falling and preparing the timbers for the craftsmen to hew them; seventy thousand to carry burdens; eighty thousand to hew the stones and timber, and three thousand three hundred overseers of the work; who were all employed for seven years; to whom, besides their wages and diet, King Solomon gave, as a free gift, six millions, seven hundred and thirty-three thousand, nine hundred and seventy-seven pounds.
The treasure left by David, towards carrying on this noble and glorious work, is reckoned to be nine hundred and eleven millions, four hundred and six teen thousand, two hundred and seven pounds; to which, if we add King Solomon's annual revenue, his trading to Ophir for gold, and the presents made him by all the earth, we shall not wonder at his being able to carry on so stupendous a work; nor can we, without impiety, question its surpassing all other structures, since we are assured that it was built by the immediate direction of HEAVEN.