---
THE HIDDEN POWER BEHIND FREEMASONRY
JEWISH AND MASONIC CONTROL OF THE MEDIA!
CHAPTER XIX
Lt. Col. Gordon "Jack" Mohr
---
It would take a full sized book to discuss in full, the Jewish and Masonic control over the media of the nations of Christendom. Whenever this control is brought to the attention of the American people, especially Christians, great cries of anguish go up from the enemy camp, and especially loud and plaintive is the cry of "anti-Semitism." While they love to control what the American people hear and see, they do not like to have this control discussed by the "bourgeoisie," and they are especially violent against anyone who exposes this control.
Today, in 1990, the great capitalistic presses of the United States, England, Canada, Germany, and France -presses which are referred to as "the Free Press," are almost 100% under the control of the great Jewish-Masonic financiers.
Let's look at some facts which cannot be disputed. In 1982, at least 909 major daily newspapers in the United States, with a daily readership of some 49-million, were Jewish owned and/or controlled. The majority of Jews who controlled these newspapers were high ranking Masons. These included the following:
WALL STREET JOURNAL - 1,406,192 - Warren Henry Philip, (Jew) President.

LOS ANGELES TIMES - 1,000,866 - Simon Ramo (Jew) Director.

NEW YORK TIMES - 906,498 - Arthur Ochs Sulzburger, (Jew) President.

CHICAGO TRIBUNE - 750,707 - Edward Engle, (Jew) V.P.

DETROIT NEWS - 626,801 - B. Gingold (Jew) V.P.

CHICAGO SUN-TIMES - 554,334 - Howard Seitz, (Jew) Dir.
DETROIT FREE PRESS - 623,846 - John Livingston Weinberg (Jew) ,Dir.

WASHINGTON POST - 534,400 - Katherine Myer Graham (Jew), Board Chairman.

In addition, the vast majority of daily newspapers with distribution between 250,000 and 500,000, are Jewish owned and/or controlled. These include the SAN FRANCISCO CHRONICLE; MIAMI HERALD; ATLANTA JOURNAL; INDIANAPOLIS STAR; BOSTON GLOBE; KANSAS CITY TIMES ST. LOUIS GLOBE-DEMOCRAT and the OMAHA WORLD HERALD.

Over 47 major weekly magazines, with an estimated readership over 78-million, are Jewish owned and/or controlled. These include:

TV GUIDE - 19,168,096 - Walter Annenberg (Jew), President.

McCALL'S MAGAZINE - 6,801,287 - Robert Stein (Jew), Editor.

GOOD HOUSEKEEPING - 5,250,597 - Harrison Aaron Mitnich (Jew), Treasurer.

TIME MAGAZINE - 4,425,270 - Arthur Heiskell (Jew), Chairman of the Board.

SPORTS ILLUSTRATED - 2,267,547 - Katherine M. Graham (Jew), Board Chairman.

U.S. NEWS & WORLD REP. 2,036,140 - Lester Tanzer (Jew), Ed.

All of the major TV networks are controlled by this Jewish-Masonic cabal:

ABC Network - Leonard Goldenson (Jew), Chairman.

CBS Network - William Paley (Jew), Chairman.

NBC Network - Robert Sarnoff (Jew), Chairman.

Metro-Media Network - Herbert Klein (Jew), V.P. & Director.
Do you wonder now, why there is so much pro-Zionist slant in our news. (For more details, send for my booklet, SATAN'S KIDS,).
Even many privately owned newspapers, which are not Jewish owned, have a great deal of control exerted over them because Jews and Masons control the nations advertising, which is necessary for a newspaper or magazine to be successful.
The great world news agencies such as United Press and Associated Press are Jewish controlled, as are Reuter and Wolff in England and Germany.
This is one of the major reasons that the Christian Patriotic Movement in Canada and the United States will never receive fair coverage. It is the nature of the Jewish-Masonic beast to "lie."
In his book L'ANTISEMITISAE, Jewish apologist Bernard Lazare says:
"The Jew is not content to dechristianize, he Judaizes; he destroys Christian beliefs; he provokes religious indifference, but he also imposes on those whose faith he destroys, his own concept of the world, of morality, and of human life; he labors at the age-old task - the destruction of the religion of Christ."
This was not meant as an expose, but was a boast regarding Jewish power.
The whole Socialist World Movement, from its beginning, was a Jewish-Masonic operation. It has only been within the last hundred years, that the objective of a world controlled state, controlled by Jewish-Masonic power using gold and international money power as its principle instrument of control, has come to the forefront,
In spite of its claims to the contrary, International Freemasonry has proven itself to be essentially materialistic, naturalistic and selfish. The aims of Freemasonry must always be placed first in the life of a member, before that of God, country, or family.
As far back as 1917, the objective of World Masonry has been openly declared by its leaders. At a conference of Masonic leaders from the Allied Powers (France, England, Italy, etc.), held in Paris, January 14, 15, 1917, it was decided to convene a Congress of Freemasons in June 1918. This would include Masonic leaders from all the Allied and Neutral Powers. This Congress was for the primary purpose of making the following declaration:
"To prepare the way for the United States of Europe; to set up a supra-national (above all nations) authority, whose purpose would be to settle disputes between nations. Freemasons were to be the propaganda agents of this venture, which it was said would bring universal peace and happiness to mankind, viz., this was to be THE LEAGUE OF NATIONS."1
In the Protestant churches of the early 20th Century the nature of Freemasonry was clearly understood and openly condemned. At a conference of English Methodist ministers, held at Bradford, England, June 22, 1927, the following resolution was passed: "Freemasonry in its ritual and official language is of a theistic nature... The distinctive faith of Christianity and the Christian message of salvation through faith in Jesus Christ is wholly incompatible with the claims put forth by Freemasonry in writing and speech."
This Methodist Conference recommended that Methodist ministers have nothing to do with Freemasonry. During recent months, the Protestant clergy of England, have condemned Freemasonry as being anti-Christian.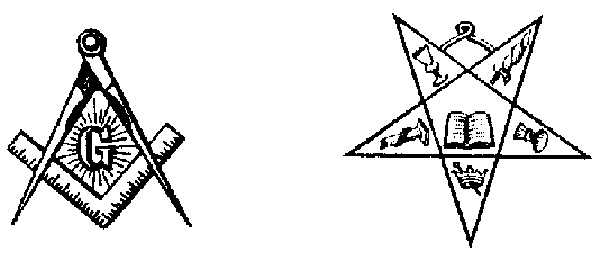 ENDNOTES
1. Taken from L'Alpine., May 31, 1917. This was the official organ of the Masonic Lodge in Switzerland.